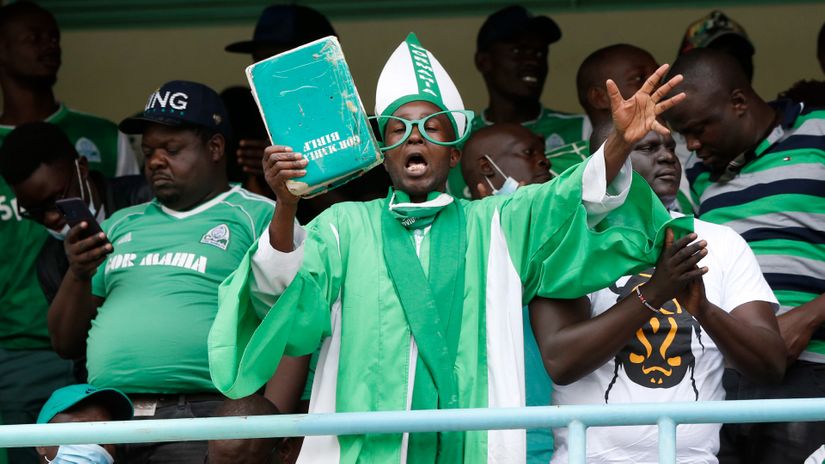 Sudi gives credit to Kogalo for the exposure that has given him new face, this is good music to his ears.
He loves Gor because it's a big team in the region "and have beautiful livery and play good football."
"Our away color is white, meaning peace," the 41-year-old quips.
Sudi is always tuned on as far as Gor fixtures are concerned but is steadfast in defending the club against negativity of crowd trouble. And he loves Manchester United to death, yet "green army" livery is what takes precedence, by and large.
"Gor Mahia FC has its own Bible and AFC Leopards has theirs. Our first verse says that when you want to support Gor you must have a thick skin because you can go to a match and lose. My church is Gor Mahia. Prior to kick-off when Jaro Soldier has sung the K'Ogalo anthem, fans maintain silence and I pray. I am the K'Ogalo bishop, you know. So, it's always a complete weekend when both Gor and Man United chalk up maximum points," Sudi revealed to Capital Sport.
"Today, Gor fans don't want to be associated with those who throw stones or thieves who capitalize on situations to steal from others in stadium during matches. There is honestly no need throwing stones. You will throw stones and hit your family member or friends who might be there in the stadium or destroy property that will in turn be a burden to the Club."
Sudi, who started supporting Gor way back in 1996, is a career painter and committed family man. After attending Kanyibok Primary School, the lanky football lover, later enrolled to Kamukunji Secondary in Nairobi but dropped out due to lack of school fees.
"I am a painter, during weekdays, I get some small jobs for painting which provides my daily bread. For now, the work has slowed down due to COVID-19 pandemic. It has affected my other way of getting 'something small' which I used to get during game days," Sudi, who has four children, two boys and two girls stated.